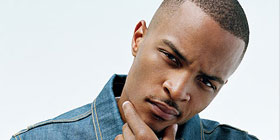 Dr. Dre had a busy end to 2011 with the release of the Slim The Mobster War Music project on which he shared executive producer duties with Snoop Dogg [available for Free Download and For Streaming] as well as joining Snoop in Singapore for an Award Show.
As we move in 2012 rumors abound once again that this will be the year that Dr. Dre completes and releases his long awaited "Detox" LP. Although we are only days into the year antication has been building again since T.I. released his F*ck Da City Up mixtape on Jan 1st that features a Dr. Dre produced AND featured track!
T.I. and Dr. Dre collabos have been in the offing for some time, if you cast your mind back to almost 2 years ago the record "Topless" was leaked that had T.I. rapping as Dre.
Today we are dropping off the single from F*ck Da City Up called "Popped Off" which also features Sly – you can check it out below!
T.I. – Popped Off (Feat. Dr. Dre) (Audio)
Enjoy and support T.I. and download F*ck Da City Up today.