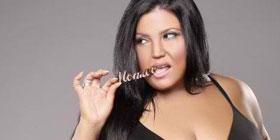 In an industry saturated with booty shaking females and dudes oozing with street credibility… enter Toni Monroe! The Cali-bred MC from Van Nuys rides her own line with a style to make even the most skeptical take a second look.
Her rising success and increasing buzz has placed her in the top three female artists, according to Lady of Rage. Toni Monroe has rocked with some of the best, opening up for artists such as E-40, Ice Cube, Mack 10, WC, Bone Thugs, DJ Quik and others.
Today, Toni is releasing her latest project called "Big Girl Cookies (First Batch)", a mixtape hosted by West Coast legend DJ Crazy Toones. And you should know that Toones doesn't put his name on anything. Another legend you will find on the tape is Kurupt, who's joining the funky party on the cut You Like It. Other than that, "Big Girl Cookies" delivers hard hitting beats with heavy lyrical content that should appeal to both the mainstream Hip-Hop heads and underground fans alike. With her underground notoriety on lock, she is definitely turning heads for all the right reasons.
Dubcnn has the aforementioned Kurupt featured track as well as the full mixtape available for free download, below!
Toni Monroe – You Like It (Feat. Kurupt) (Audio)
Toni Monroe – Big Girl Cookies (First Batch) (Hosted by DJ Crazy Toones) (Free Download)
Enjoy and ensure you follow Toni on Twitter.