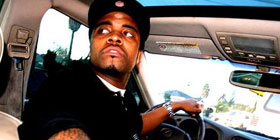 He dropped his collaborative street album Heart Of The City with Noni Spitz featuring production from Dae One, Dame Taylor, THX, Clinton Place, Jared Jedi Moore in 2008.
From there he went on to work with countless West Coast artists, producers (Dae One, Focus, Damizza, Dame Taylor) and appeared on projects such as the Tupac Assassination Soundtrack – which was arranged through his affiliation with the then Aftermath signed Bishop Lamont.
That same affiliation saw him in the studio writing for Dr. Dre's long awaited Detox and securing features on PR1ME's Stylafornia, Noni Spitz's WIMS project, and countless others.
Geo was then back in mid 2009 with the singles Dont Want It, Back Seat featuring Noni Spitz over production from Jared "Jedi" Moore, Get A Bar and Life Of The Function – all from the DJ Backside hosted, Dae One mixed Underdog Vol 2 project.
Until November 2011 Geo had dropped off our radar but was right back on it when he dropped his banging new single Everywhere I Go which is set to appear on a release he is finalising called "The Bad Employee." In that update we promised that a video for this record was imminent…and here it is!
Geo Brown – Everywhere I Go (Audio)
Geo Brown – Everywhere I Go (Video)
Be sure to check out Geo Brown on Myspace & Twitter.