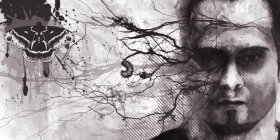 Late last year Southern California MC Mic Moses followed up a string of appearances since 2007 – including Crooked I's "St. Valentine Day Bossacre" and Meech Wells releases The New West World Order Volume 2 and Volume 3 – with a new album entitled "Oh Ryan" available via iTunes.
Oh Ryan was the follow up to his 2010 project with C4mula called Back For Seconds featuring Stat Quo and super producers Soul Mechanix. Singles from that included Stand Tall and the Stat Quo collaboration Last Forever.
In 2011 leading up to the release of Oh Ryan Mic Moses also dropped the free download of his solo mixtape The Road Block on Dubcnn as well as another EP alongside Ariano and C4MULA entitled Orange Curtain Vol 1.
Having released Oh Ryan in November Mic Moses returns today with the first in a string of videos from the album. "Die For Mine" is directed by Michael Navarrete and Bob Daff and shot on location at SkeeTV – check it below.
Mic Moses – Die For Mine (Video)
Support "Oh Ryan" on iTunes and follow Mic Moses on Twitter.