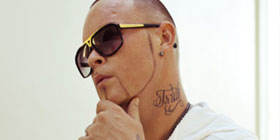 San Diego rapper Cals is gearing up for the release of his anticipated album "Paper Trail Gang". The album, which features N.O.R.E., Mitchy Slick, YG, Bobby Brackin, Mann, Ethan Avery, Graph and more, will be released on January 20th 2012 and we have a new exclusive from Cals for you to hear.
This record is another collaboration with hometown hero Mitchy Slick, with whom Cals already created the street smash "Things Ain't Change". Incase you've been sleeping, watch the "Things Ain't Change" video by clicking here.
The two recorded another cut titled "Daygo Shit", check it out below:
Cals – Daygo Shit (ft. Mitchy Sick) (Audio)
Besides these two collaborations with Mitchy Slick, don't forget about Cals' radio single "Something About Your Body", featuring YG, Bobby Brackins and Ethan Avery. The video garnered over 5 million views on WSHH since it dropped and it's been spreading virally fast.
Expect more from Cals and his "Paper Trail Gang" album within the next few days.