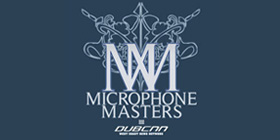 After a festive break we return today with a Dubcnn Radio Triple Threat! Having had a few weeks off the crew of both the All NEW Dubcnn Radio Show and the Microphone Masters Radio Show return today to welcome you into the new year and this new week.
A few days later than planned we first up have the Happy New Year show from J-Luv and Blaze Rock with the Microphone Masters Radio Show that should've dropped last Monday 9th January.
Turn up the volume for tracks from T.I., Dr. Dre, Mirandom, Raekwon, Fashawn, SugaKane, J Ross Parrelli, Reks and Black Sheep. Not only that but the duo welcome a good friend, SugaKane to the show, this Bay Area representer is a talented producer and emcee that you will be hearing a lot from across 2012.
With the new T.I. joint ムfeaturingメ Dr. Dre, Blaze seems to have reached his breaking point with the good doctor and you wonメt want to miss this. Kane puts J-Luv on blast as the two reminisce about some of J-Luvメs storied alcoholic moments as well as sharin his thoughts on the state of Hip Hop in the Bay Area and why the Hyphy Movement didnメt lead to a tidal wave of success.
Kane also touches on how he can break through regional biases through his production and the three talk about the refreshing nature of candor and Blaze Rockメs reputation for telling it like it is!
Dubcnn Radio: Microphone Masters Radio Show – Episode 37 (01/09/12) with SugaKane

Next up is the edition of All NEW Dubcnn Radio Show with J-Double, Scott Taylor aka ST Specialist & Worldwide Warb that should've aired on Friday 13th January.
This episode also features an exclusive chat with Damizza who stops by to chat with the guys about his new book "Guilty By Association" and tell a couple of stories behind the music, we also go down his discography throughout the whole show playing tracks from Nate Dogg, Mariah Carey, Shade Sheist, Kurupt and Westside Connection. This is definitely an episode you don't want to miss, so lock it in and stay tuned to this jam-packed episode!
Dubcnn Radio: Dubcnn Radio: Episode 40 (01/13/12) with Damizza

Finally today we drop TODAYS episode of the Microphone Masters Radio Show which sees J-Luv and Blaze Rock bring you some joints from Lords of the Underground, Brother Ali, Buck Barnabas, Pac Div, Sean Born among others.
The aforementioned Buck Barnabas joins the dynamic duo this episode. Buck Barnabas is known for his infectious beats, lyrical prowess and his Christian faith. Put all stereotypes aside and nod your head to Buck's tracks. He shares his thoughts on inspiring people through music, the reception that his music gets among staunch Christians and dealing with the stereotype of being a rapper that happens to be Christian.
In addition, J and Blaze talk about kids sports and the unsettling precedent being set with youth sports.
Dubcnn Radio: Microphone Masters Radio Show – Episode 38 (01/16/12) with Buck Barnabas
Enjoy the show, leave your comments on the show page using the Facebook Comment tool and ensure you take part in the show by contacting us through Email, Facebook, Twitter, on the Forums or by calling us on 602-903-FLOW (3569). Remember if YOU want to advertise on the show then ensure you email in today.