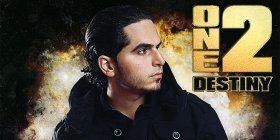 Across 2011 we kept you steadily updated on the hugely anticipated double EP "History/Destiny" from Treacherous Records MC One-2. During the year you had teaser records like the Hardcore (Remix) with Jayo Felony as well as music from the actual double EP including In The Zone featuring Kobe produced by Komplex, from the "Destiny" disc and another Komplex production Half Man with Crooked I from the History Disc.
The Half Man single with Crooked I was turned into a black and white visual directed by Blind Productions which can be seen here and then we released the video to the title track from Destiny.
Today we are back with news that the long awaited project will drop on February 7th and features Crooked I, Horse Shoe Gang, Jayo Felony, Knoc-Turn'al, Kobe, K-Young and more, all over production from Komplex. The major change is that the "History/Destiny" double EP is now the 12 track project entitled "Destiny." The new cover can be seen within this update and the tracklist below. We've included all previous songs we've premiered on Dubcnn below as well as one that is new, the Chace Infinite featured "This Life of Ours."
01) This Life Of Ours (Feat. Chace Infinite)
02) Check
03) Half Man (Feat. Crooked I)
04) Nothin II Somethin (Feat. Project Lionheart)
05) All In
06) Coast Guard (Feat. Horse Shoe G.A.N.G)
07) Lifestyles Of L.A.
08) Femme Fatale (Feat. Knoc-Turn'Al & Jayo Felony)
09) Boa Constrictor (Ft. K-Young)
10) Tears Tumble (Feat. Amin & Tena Jones)
11) In The Zone (Feat. Kobe)
12) Destiny [Watch the Video]
Enjoy the new video and stay tuned for the release of "Destiny" on February 7th.