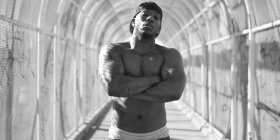 Watts representer Six Reasons cant stop dropping new music in recent months and there is a good reason. He is currently working on his latest mixtape "80's Baby" – the follow up to 2008's Pipe Dreams and last years DJ Skee presented Do Not Pass Go Do Not Collect $200.
Across 2011 Six Reasons released footage of him and The Game LIVE in Arizona at The Venue Scottsdale as well as dropping the video to his latest record Raindance featuring Too Short and a Behind The Scenes look of that shoot.
He followed that up with the video for Shotgun featuring Constantine again from the forthcoming "80's Baby" release.
Today Six continues the success of his Raindance single with Too Short with a follow up track entitled "Runnin' For President" as well as video about why he's "Runnin' For President" – check them below!
Six Reasons – Runnin' For President (Audio)
Six Reasons – Runnin' For President (Video)
Lookout for more news, audio and video from Six Reasons over the coming weeks in the lead up to "80's Baby" and if you haven't already make sure you check the records Do Me a Favor, I'm Eatin' featuring Prophet, the summer single Fat Lady as well his appearances on the just released Prophet & Deep H2oz mixtape #darkroom.