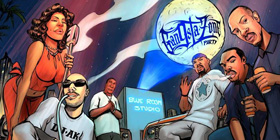 Gangsta Zone Recordz starts off 2012 with a bang by dropping the new compilation album, "Gangsta Zone Party."
French producer DJ AK enlists an all-star team of West Coast vets and heavy hitters to lace the funked-out playlist with features including Tha Dogg Pound, WC, Foesum, Jewell and more!
We recently got the chance to talk to DJ AK about his talkbox inspired sound and how the project came to fruition.
When asked about his musical influence AK explained how West Coast producers, including, but not limited to Fredwreck, Battlecat and DJ Quik as well as a whole host of old school funk and soul artists (particularly George Clinton, Bootsy Collins, Gap Band, Zapp & Roger, Stevie Wonder, Marvin Gaye and James Brown) have shaped his musical direction.
We asked AK about how he began producing and he recalls teaching himself the talkbox through watching video clips of Roger Troutman and researching the technical aspects of the skill online – although he also notes that information wasn't so easily available a decade ago and his early experiments yielded more smoke than success!
Having saved he was eventually able to buy his own device, a ムRocktron Bansheeメ, from a record store in Paris and since then heメs built his own custom devices from different horn drivers and obtained the holy grail of talkboxes, the ムElectro Voice 1823Mメ (as used by Roger Troutman) while on tour in Japan.
The making of "Gangsta Zone Party" involved recording in a variety of locations – his home studio in Lyon, hotel rooms in France, sessions in L.A. whilst visiting the US and through countless online exchanges. One thing he was adamant about was the necessity of being ready to record material anytime he gets the chance by using a barebones laptop set-up.
One such example was creating "Till The Break of Dawn" with Kurupt. The label learnt Kurupt was on tour with Snoop in France, arranged a meeting at his hotel and grabbed the necessary material at a moments notice. AK states it took a long time to put the project together, gathering enough opportunities to meet the various artists and complete enough tracks for the final cut.
Another record AK is particularly fond of is "Higher Than Xtasy" which features Foesum & Bo-Rocc as it "captures the old school funk feel I've been looking for" – and we have to agree!
AK was full of thanks and praise for all the artists who collaborated on the project and also wants to thank fans for their support in an increasingly tough marketplace. We've been given two tracks to stream for you to checkout from "Gangsta Zone Party" – available within the full tracklist below – enjoy and support the release!
01) Party All Night – Tha Dogg Pound & Jewell
02) Roll It Up – B-Legit, Don Cisco & Shady Nate
03) Higher Than Xtasy – Foesum & Bo Rocc
04) I Ain't Trynna Fucc Wid Ya – South Central Cartel
05) Independant Hustler – OG Daddy V & Dj AK
06) I Just Wanna Fucc – Daz & Fratt House
07) Till The Break of Dawn – Kurupt & Dj AK
08) Wessia Fo Leeeah Neeeah – WC
09) Crazy Night – Jewel & Dj AK
10) Throw Em Up – Domino
11) Noche Perfecta – SurSilvaz, Playaman & Rodd
12) Si Tu Veux – Larson & Leyina
13) West Coast Party – Mr Sancho, Royal T & Dj AK
14) Boss Playaz Play – Big Syke & Dj AK
15) Gangsta Zone – Daz & WC
The compilation is available now on CD directly from Gangsta Zone Recordz and digitally from iTunes or Amazon.