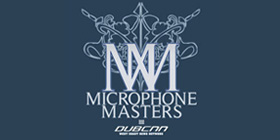 Microphone Masters Radio is back and turn up the volume for tracks from E-40, DJ Premier, Bumpy Knuckles, Evidence, J-Luv, Erick Sermon, Blaze Rock and Pusha T to name a few.
Your hosts, Blaze Rock and J-Luv continue to bring you another action packed episode. SOPA has been in the news quite a bit over the past few days and so Blaze and J share their thoughts on the debate.
Red Tails, the George Lucas produced film about the All-Black fighter pilots on the heels of the Tuskegee Experiment, hit theatres amongst some heated debate. Many in the industry see the film which has an all black cast as a box office disaster waiting to happen.
The dynamic duo talk about the viability of a movie with an all back cast and even raise the question; donメt we have more pressing things to concern ourselves with?
And lastly, how many more songs can we take that are named after athletes? Barry Bonds, Kobe and Lebron, Tim Duncan and you knew it was coming…Tim Tebow! Listen to the song and you be the judge.
Dubcnn Radio: Microphone Masters Radio Show – Episode 39 (01/23/12)
Enjoy the show, leave your comments on the show page using the Facebook Comment tool and ensure you take part in the show by contacting us through Email, Facebook, Twitter, on the Forums or by calling us on 602-903-FLOW (3569). Remember if YOU want to advertise on the show then ensure you email in today.