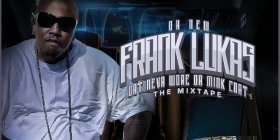 Bay Area legend Messy Marv aka The Boy Boy Young Mess returned to the game with a great solo album today. Titled "Da Real Frank Lucas – Dat Neva Wore A Mink Coat", this album marks his return to the 90's sound that his fans originally fell in love with.
While Mess being in the news over the past year often involved some type of controversy, he's returning with this record to show that musically, he's still a force to be reckoned with.
The vintage sounding lead single "You Gotta Pay Me" has been getting great reviews all across the internet. Make sure to check out the video below:
Messy Marv – You Gotta Pay Me (Video)
If you like what you hear, check out the entire album by clicking here.