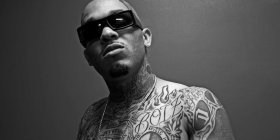 Every once a while, I come across a track that catches me off guard, or that I might have slept on previously. That is the case with Mac Lucci's latest video, "Two Much". I had heard the song before on his "Pre-Hustle" EP, but never really tripped off how dope it was.
A couple of days ago, Lucci showed me the video to the song, and I've been slapping it since. What do you think? Check out the "Two Much" video below:
Mac Lucci – Two Much (Video)
Cameos include Warren G, Soopafly, JT The Bigga Figga, D-Dimes, Roccett and more.