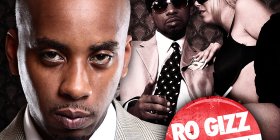 Innovative, Lyrical, Humorous, Motivational…thatメs RoGizz, an artist who turned his love for poetry into hip hop music. He signed a record deal with Dreamworks but later decided to go independent and form his own company, GIZZ Entertainment.
His various mixtape projects labeled Worldwide Domination have featured artists from Chicago, New York, Milwaukee, Miami, Los Angeles, Orlando and the Carolinas.
With Cali rapper Pask-1, he formed the group "Worldfame" and released the mixtape "Cut the Games: Chi to L.A." to critical acclaim. Now heメs back on the mic with his new album RoGizz vs. Black Blago which we've been promoting via banners since the turn of the year. This is a hip-hop tale about Good vs. Evil, Politics vs. Principles, Purity vs. Pimping, Honesty vs. Disloyalty, Love vs. Lust…Blago thinks everybody gotta "Pay to Play".
Make sure you check out his 1st single from the album titled Checkin' That Check before you head over to iTunes to cop RoGizz vs. Black Blago. Follow RoGizz on Twitter and Facebook