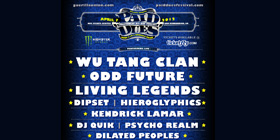 Exactly a month ago we brought you the announcment of the 2012 Paid Dues Festival and its initial line up brought to you by Murs 3:16 in association with Guerilla Union.
Today Murs and Guerilla Union have announced the complete list of confirmed performers set to appear at the seventh installment of the Paid Dues Festival.
Have already announced the appearances of Living Legends, Hieroglyphics, Kendrick Lamar, DJ Quik, Psycho Realm and Dilated Peoples who will join headliners Wu-Tang Clan and Odd Future – they announced the addition of Mac Miller, Three-6-Mafia, Brother Ali and many more.
"With the tremendous growth in independent hip hop every year there is more and more amazing talent to choose from. And as the spectrum broadens the goal of Paid Dues is to continue to be a platform that showcases every facet of the movement," notes festival co-founder Murs.
He continues, "With 50 artists spread out across three stages, there is guaranteed to be something for everyone. I'd personally like to thank all of our fans, supporters and sponsors for helping us make it to our seventh Paid Dues. We are all looking forward to another safe and successful year."
To see the full line-up by stage visit the Paid Dues 2012 Official Dubcnn Event Page and see the array of talent which alos includes Kendrick Lamar, Crooked I, Ras Kass, Self Scientific, Ab-Soul, Los Rakas, Tay F 3rd, Moe Green and countless more.
As ever Dubcnn will be proud media sponsors of Paid Dues Festival presented by the independent hip hop pioneer Murs of Living Legends. This years event will take place on Saturday, April 7, 2012 at the NOS Events Center in San Bernardino, CA.
The festival is an all-day, all-ages event with multiple stages highlighting the most eminent and flourishing independent artists in hip hop. For the full press release, stage-by-stage listings and more details on the festival please check the official Dubcnn Event page for Paid Dues 2012 via the link below!
Paid Dues 2012 Official Dubcnn Event Page
On that page you will be updated about buying and also winning tickets to the festival courtesy of Murs and Guerilla Union.