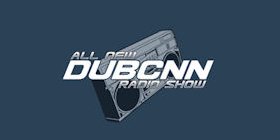 It's time for another episode of the All NEW Dubcnn Radio Show, this week the guys are picking up where the last left off in their Artists To Watch in 2012 series. J-Double, Worldwide Warb and Scott Taylor aka ST Specialist get a visit from songstress Brooke Taylor whose album "L.O.V.E. (Live.On.Virtuous.Energy) has been getting critical acclaim all over the map, she stops by to discuss the album as well as her future. The guys even battle for her affection live on the air!
As always listeners are treated to hot new music from artists including Strong Arm Steady, Picolo, Conflict, Ty$, Big K.R.I.T., Cashis as well as a classic from DUBCNN favorite Taje'. Remember to keep it locked to DUBCNN Radio for more Artists To Watch in 2012 features and the latest new music.
Dubcnn Radio: Episode 42 with Brooke Taylor (02/17/11)
Enjoy the show, leave your comments on the show page using the Facebook Comment tool and ensure you take part in the show by contacting us through Email, Facebook, Twitter, on the Forums or by calling us on 602-903-FLOW (3569). Remember if YOU want to advertise on the show then ensure you email in today.