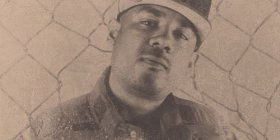 CTE signee and Young Jeezy protege 2Eleven returns with his brand new free street album "Product Of The Block 2". The album features Young Jeezy, Mack Maine, Lloyd, Omarion, Glasses Malone and more. Production was provided by Production by Justice Leauge, Lil Lody, Drumma Boy, Leauge of Starz, Purps, Fuego. Go 'head and download the entire project below:
2Eleven – Product Of The Block 2 (Free Download)
Incase you missed the two videos off the mixtapes that were released recently, check them out below:
2Eleven – Bullshit (ft. Mack Maine) (Video)
2Eleven – On My Shit (ft. Freddie Gibbs) (Video)
Just in time for the release of the mixtape, dubcnn linked up with 2Eleven to get some info on the project:
"There's been a lot of growth since the last time I spoke with DubCNN. I'm setting new goals, and my career is taking off. I'm getting older, and I'm learning the game more. But don't get it twisted, it's CTE or nothing", he explains.
When asked about his collaboration with fellow CTE signee Freddie Gibbs, 2Eleven says: "When I got the beat from Purps, I was trying to give it a Bones Thugs feeling. Who better to get on a Mid-West sampled record, than the King of the Mid-West right now, Freddie Gibbs. It made the record bigger. I planned it, and had him in mind. It made sense."
2Eleven also made clear that even though former CTE artist Roccett has left the label, there is no bad blood between them: "Roccett thats my dude for life. I just spoke with him. That's my nigga til the end. It's deeper than rap. He's one of my friends no matter what."
Follow @2Eleven on Twitter to stay posted to dubcnn for more.