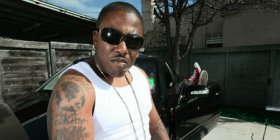 Dubcnn connected with Messy Marv aka The Boy Boy Young Mess for – believe it or not – our first ever interview. After causing lots turmoil and controversy last year due to his feud with Too $hort, Mess returns now on the musical tip with a throwback album titled "Da Real Frank Lukas Dat Neva Wore A Mink Coat".
Marv explains to us why he went back to the '93 Mess on this one and why he's going to stick to it for future projects as well. We also speak about him connecting more with his fans and involving them in his everyday life.
For those who don't know, Mess has one of the most loyal underground fan bases I've ever seen. We also get the latest on Mess' relationship with childhood friend San Quinn, in which both parties seem to have matured and express mutual respect for each other.
On a different note, Mess talks about being falsely accused by JT The Bigga Figga and other people publicly and sets the record straight as far as those accusations are concerned.
Make sure to check out all that and much more in this exclusive interview:
Exclusive Interview With Messy Marv (February 2012) (Audio/Text)
Incase you missed it, watch Messy Marv's video to "You Gotta Pay Me" off the new album below:
Messy Marv – You Gotta Pay Me (Video)
If you like what you hear, head over to iTunes to grab your copy of Mess' "Da Real Frank Lukas Dat Neva Wore A Mink Coat".