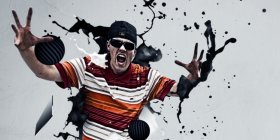 Late last year we noted the large number of Polish followers of the Dubcnn Facebook Page and reached out to thank them for their support and readership. Following that update we were contacted by the Tricity Funk Records Team from Poland about an up-and-coming MC who hails from Poland who is looking to release his debut album early in 2012, that contact led to us introducing 25 year old MC Roach; see Polish MC Roach Links With King T & Kokane For Single.
That update focused on the pending release of his album "Trojmiejski Funk" ("Tricity Funk" in English) which was to be entirely composed by SherlOck, an acclaimed Polish producer. In order to appeal to a global audience he had linked up with an array of Westcoast talent including legends King T and Kokane for the international single LA 2 Tricity which we dropped for stream and download.
Today we are back as we've been sent the follow up single, this time featuring Knoc-Turn'Al and Dogg Master called "Gangsta Funk." We asked Roach about the record and he told Dubcnn; "Working with Knoc went really well. He was down with the project and really liked the beat, so we did this track together. We [have] remained in a daily contact for quite some time, which was great. I remember he was adamant about the way his vocals should be mixed, to maintain the highest quality, so we learned a few things.
After getting the vocals from Knoc I've sent the track to Dogg Master who dropped a hook and a bridge. I was impressed by his recent works, so it's really cool that he decided to do this collabo, despite being busy with his own album.
It's an incredible experience for me and SherlOck to work with people who's music we grew up listening to, even if the work could be only remote at this point. Right now we're thinking of a way to make a video to this track. And the track itself is [turned out] great."
Checkout "Gangsta Funk" featuring Knoc-Turn'Al and Dogg Master below.
Roach – Gangsta Funk (Feat. Knoc-Turn'Al & Dogg Master) (Audio)
The "Trojmiejski Funk" album album will be released domestically as physical copies and globally digitally. Stay tuned to Dubcnn for the latest media and release details, in the meantime hit up Roach and SherlOck on Twitter.