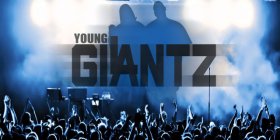 It was way back in 2007 when we first introduced the Young Giantz, a duo consisting of Deuce Mac and Bigg Joe West then aged 22 and 20 respectively both of whom are sons of West Coast legend Playa Hamm.
In that first update we brought you the banging single Weeest! which featured Playa Hamm, then the next single Big Big Bizness in 2008 before dropping Truthfully Speak'n, Catch Da Fade, I'm a Dodger and U Can Get It during 2009, all hyping up their then to be released Gqcality mixtape which dropped in January 2010 hosted by DJ Battlecat.
The release of Gqcality also saw a video drop for the single Weeest and since then we've heard little from the brothers bar the late 2010 drop Paystyle Pt. 2.
Interspersed with the duo's music we also sat down for this Exclusive Video Interview With The Young Giantz in Summer 2009 as well as dropping solo records from Bigg Joe West including a Weeest! Freestyle, Topless Freestyle and Joe On One.
Today we are back as after an 18 month hiatus with no new music on Dubcnn the Young Giantz are back with a bang with a new single from an upcoming album. "Don't Stop Party'n" is produced by DJ Battlecat and is set to appear on the "Itz In Uz, Not On Uz" album due later this year. We have the single for you to check out below and urge you to support it via iTunes.
Young Giantz – Don't Stop Party'n (Audio)
Remember you can buy "Don't Stop Party'n" produced by DJ Battlecat on iTunes for only $0.99. Stay tuned to Dubcnn for the latest news and media from "Itz In Uz, Not On Uz" and ensure you follow Young Giantz on Twitter.