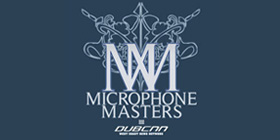 The Microphone Masters Radio Show is back like they never left! Join the hosts with the most, J-Luv and Blaze Rock as they bring you tracks from Gangrene, Erick Sermon, Moe Green, Killer Mike, Dice Raw, Jay Rock, Kendrick Lamar, Krondon, Knoc-Turn'Al and more.
Tim Ferrara from Incyph Urban Entertainment joins the conversation this week as the fellas dive into some interesting topics. On the heels of the Whitney Houston passing, J-Luv asks the question of how someone should be mourned when they pass away.
Do you only mention the good deeds? What about the bad stuff? How do you balance it? J and Blaze also talk about forgiveness. If the person that was offended can forgive then who are we to hold a grudge? These topics and more will keep your head nodding and your mind stimulated – enjoy!
Dubcnn Radio: Microphone Masters Radio Show – Episode 42 (02/20/12)
Enjoy the show, leave your comments on the show page using the Facebook Comment tool and ensure you take part in the show by contacting us through Email, Facebook, Twitter, on the Forums or by calling us on 602-903-FLOW (3569). Remember if YOU want to advertise on the show then ensure you email in today.