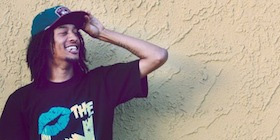 A couple of months ago, we introduced you to Waxxie, an up and coming hip-hop artist from the West Coast who also happens to be the son of one of hip-hop's most respected and legendary forefathers, N.W.A's MC Ren. In our past updates we brought you a record called My Krew which was said to feature on an upcoming mixtape to be titled "Sky Times" – that mixtape has now arrived!
"Sky Times" is the first mixtape from the young rapper, and with cuts like My Krew Waxxie is building a nice buzz for himself and is definitely an emcee to keep listening for!
We have the
"Sky Times"
mixtape for you to download below!
Waxxie –
Sky Times
Enjoy and if you want to know more about Waxxie then read our Exclusive Interview with Waxxie from January 2012 where he talks about his budding career, what it was like growing up as the son of a legendary artist, a possible New N.W.A. and much more!
Be on the lookout for more info and updates on Waxxie right here on Dubcnn!