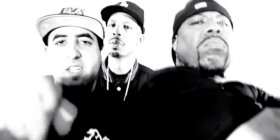 DubCNN wants to introduce you to rising Vancouver/Los Angeles artist Jay Worthy. Traveling back and forth between Canada and California, the young spitter is pushing his distinctive brand of lifestyle rap: GS350 interstate-driving, gliding airport to airport and cruising bikes on Venice Beach.
Jay Worthy moved to L.A. in 2004, where he landed a position as VP at the LA-based label RAM Inc., where he oversaw the company's clothing line, working sponsorships with pro-skateboarder Terry Kennedy and DJ ill Will among others.
Jay Worthy has shared stages with the likes of Waka Flocka, Bricksquad, Dogg Pound, The Grouch, Too $hort, Mistah Fab, Fashawn and notable others. He is currently wrapping up his new EP "Hood Politics", set for a April release. The project will feature WC, Spice 1, Roscoe and DJ Crazy Toones among others.
What sold me on Jay Worthy was the video to his hypnotizing song "Sky Hi", check it out below:
Jay Worthy – Sky Hi (Video)
Also check out video footage of WC recording his verse to his collaboration with Jay Worthy below:
WC – Studio Footage Recording Verse To Jay Worthy Collabo (Video)
Jay currently has a mixtape called "The Lifestyle", hosted by DJ Mustard ("Rack City") which is available for download by clicking here.
Expect more news on Jay Worthy's upcoming EP and check him out on Tumblr.