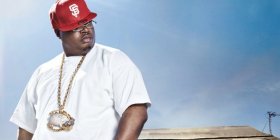 DubCNN had the chance to connect with the big homie E-40 on the set of his video shoot to "Function", the latest single off 40 Water's upcoming triple disc blockbuster, "Block Brochure Part 1, 2 & 3", which will be dropping on March 27th.
The "Function" single features Diamond Lane's Problem, the homie YG as well as the rising Bay Area artist IamSu! and the record was produced by Trend of League Of Starz. Check out some exclusive footage of the video shoot below:
E-40 – Function (ft. Problem, YG & IamSu!) (Behind The Scenes Video)
E-40's album(s) drop on March 27th, keep it locked to dubcnn for the latest!