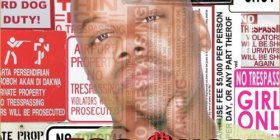 As we've been reporting Too $hort will be dropping his 19th solo album, "No TrespASSing", on February 28th and in recent month has been relentlessly promoting with music and video from the release.
In recent weeks alone $hort has been releasing back to back visuals to tracks off "No TrespASSing," first up was Money On The Floor with E-40, Hey with Silk-E, Double Header alongside Wallpaper and just a few days ago he was back with the video for I Got Caught featuring Martin Luther.
Today we have a video for "Hog Ridin" which features fellow legend and veteran Richie Rich – watch it below.
Too $hort – Hog Ridin' (Feat. Richie Rich) (Video)
Look out for dubcnn's interview with Short and for the "No TrespASSing" which drops February 28th featuring collaborations with Snoop Dogg, 50 Cent, Twista, Rico Tha Kidd and Dom Kennedy.