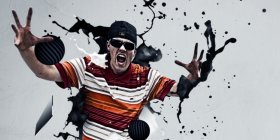 Since late last year we've kept you up to date with Roach, the Tricity Funk Records MC who hails from Poland in the leadup to the release of his debut album; see Polish MC Roach Links With King T & Kokane For Single.
That update focused on the upcoming release of his album "Trojmiejski Funk" ("Tricity Funk" in English) which was to be entirely composed by SherlOck, an acclaimed Polish producer. In order to appeal to a global audience he had linked up with an array of Westcoast talent including legends King T and Kokane for the international single LA 2 Tricity which we dropped for stream and download.
Last month we were back with the follow up single Gangsta Funk featuring Knoc-Turn'Al and Dogg Master and announced the album was to drop soon.
Today we can report that "Trojmiejski Funk" is now available for stream – via YouTube – and to buy in hard copy or lossless digital downloads via his BandCamp Page
Stay tuned to Dubcnn for the latest media and in the meantime hit up Roach and SherlOck on Twitter.