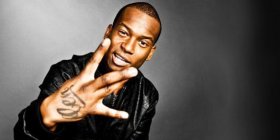 Fashawn had a huge 2011 following us catching up with him in October 2010 for this Exclusive Video Interview and releasing the long awaited Higher Learning Vol. 2 hosted by DJ Ill Will & DJ Rockstar including a 21 city tour that we caught up with him in San Francisco with Evidence from Dilated Peoples and Curt@!ns and brought you this Photo Gallery of the show.
Across the rest of 2011 he appeared on a whole host of projects including with Blu and Evidence and late last year he dropped the Nima Fadavi produced Gettin' It as well as the Generation F single and Mikhail Sarkhosh directed music video.
Today is back with a new joint with fellow 2010 XXL Freshman Wiz Khalifa for a record entitled "Mt. Money" – a taste of what these two are working on!
Wiz Khalifa – Mt. Money (Feat. Fashawn) (Audio)
Enjoy the track and lookout for Fashawn in your city as he hits up 36 US locations alongside West Coast legend Andre Nickatina starting April 4th.