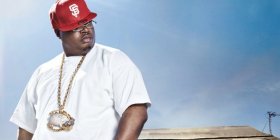 Last week we dropped the Exclusive Behind The Scenes Video of Function where we connected with E-40 on the set of his video shoot to his hit single "Function", off 40 Water's upcoming triple disc blockbuster, "Block Brochure Part 1, 2 & 3", which will be dropping on March 27th.
The "Function" single features Diamond Lane's Problem, the homie YG as well as the rising Bay Area artist IamSu! and the record was produced by Trend of League Of Starz. Now you've enjoyed the Behind The Scenes Footage, you can watch the full video which has just been released.
E-40 – Function (Feat. Problem, YG & IamSu!) (Video)
E-40's album is due for release on March 27th and features Hip-Hop and R&B favorites such as Juicy J, 2 Chainz, B-Legit, KoKane, T-Pain, Raheem DeVaughn, Gangsta Boo, Droop-E, Snoop Dogg, C-Ballin, Turf Talk, Kurupt, Daz, C-Bo, Katt Williams, T.H.H., Brotha Lynch Hung, Andre Nickatina, Kendrick Lamar, Mistah F.A.B., Cousin Fik, The Jacka, The Hieroglyphics, Too $hort and more!