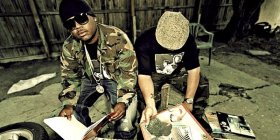 No One aka Dae One & Noni Spitz ensured they were ever-presents on Dubcnn during 2011 in the build up to the release of their long awaited album "The Substance" which dropped late last year via The duos Bandcamp page and dropped track after track including How It Iz, Kicks, 3's Company featuring Jay Rock and Butch Cassidy as well as We That from their James Wade directed 5 Part comedy movie "Out On Bail" mini-series.
In 2012 already they ensured that momentum continued with the release of their Midnight Selections EP featuring the singles Connection with Terrace Martin, Brooke Taylor & Smokey Lane as well as Spot and Tattoos and Intervention over production by AAYHASIS.
Today we take revisit "The Substance" [download via Bandcamp] as the guys have just released a video to the track "Protocol" featuring and produced by Focus… The video, directed by Graham Smith & Josh Wroe can be watched below.
No One (Noni Spitz & Dae One) – Protocol (Feat. Focus…) (Video)
Remember to keep checking Dubcnn for the latest Dae One & Noni Spitz media and ensure if you haven't yet then you go and cop "The Substance" from the duos Bandcamp page.