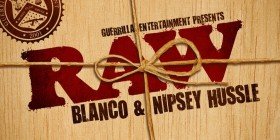 Since announcing his partnership with DJ Skee earlier this year, Nipsey Hussle returned with a video off of his upcoming collaboration album with Blanco.
We extensively introduced you to Bay Area spitter Blanco last year, who released his star-studded solo project "American Psycho from which we dropped the videos for I Know, Feel It, Smash Mode with Redman, I Gotta Rap featuring The Jacka – as well as the singles High Life with Freeway, Shooter with Nipsey Hussle.
It's with Nipsey Hussle that Blanco will drop the collaboration album "Raw" tomorrow via iTunes entirely produced by Spanish production crew Cookin' Soul, who have blessed some of Hip-Hop's best with their production.
Already from the project we've given you the first video off the album featuring YG called L.A. Confidential and today we are back with another track from the LP, this time featuring Messy Marv entitled "Nade" – listen below.
Blanco & Nipsey Hussle – Nade (Feat. Messy Marv) (Audio)
Remember Cookin' Soul, Nipsey Hussle & Blanco drop "Raw" tomorrow via iTunes and will feature Dorrough, Messy Marv, YG, Husalah, Mistah F.A.B., The Jacka, Yukmouth, Freeky Zeeky, B-Legit, Kokane, Freeway, Lil Rue, Lucky Luciano, Lee Majors and more – support the release now! S/O to the homies at Thizzler.com