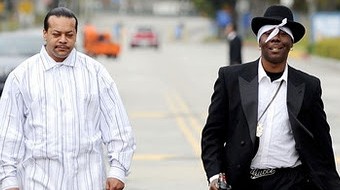 All you squares better take heed! This summer, Hip-Hop's most notorious pimp Suga Free will be teaming up with his protege, fellow Pomona representative Pimpin' Young to release not one, but two albums filled with game and wisdom: "Thunder & Lightning". The first volume is entitled "Hear My Thunder" and the second one "Feel My Lightning".
With almost 15 years of experience in the rap game and even more than that as a pimp, Suga Free felt that the time had come for him to bring forward one of his long time comrades, Pomona Pimpin' Young, of the Pomona City Ridaz.
The album features guest appearances from Twista, LaToiya Williams, Bizzy Bone, Bad Azz, Audio Push, Mr. Silky Slim, Pomona City Ridaz and more.
Check out an exclusive look behind the scenes of the making of "Thunder & Lighnting" below:
Suga Free & Pimpin' Young – Behind The Scenes Of "Thunder & Lightning" (Promo Video #1)
Expect more news as well as a first video soon.