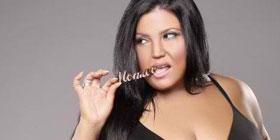 Toni Monroe has been riding a rising wave of success since she dropped herDJ Crazy Toones-hosted mixtape, "Big Girl Cookies: First Batch" to critical acclaim. The Cali-bred MC came strong with Dogg Pound emcee Kurupt on he debut joint, "You Like It", and has been rocking shows with E-40, WC, DJ Quik, Lady of Rage and others ever since.
Now, according to a news report on Good Morning America, Toni Monroe is on the verge of signing with Ice Cube and joining the Lench Mob Recordslabel.
With validations coming in from some of the industry's most prominent artists like E-40, Kurupt, DJ Quik, Tha Chill of Compton's Most Wanted, DJ Crazy Toones (Ice Cube's official DJ) and others, she has quickly stepped to the forefront of hip-hop's biggest stage.
Toni Monroe, the first prominent Jewish female rapper to emerge in the hip-hop/rap music industry has also been described as "Dolly Parton of Rap" by Lady of Rage. She seems unquestionably destined for greatness, with "Big Girl Cookies: First Batch" being the spring board.