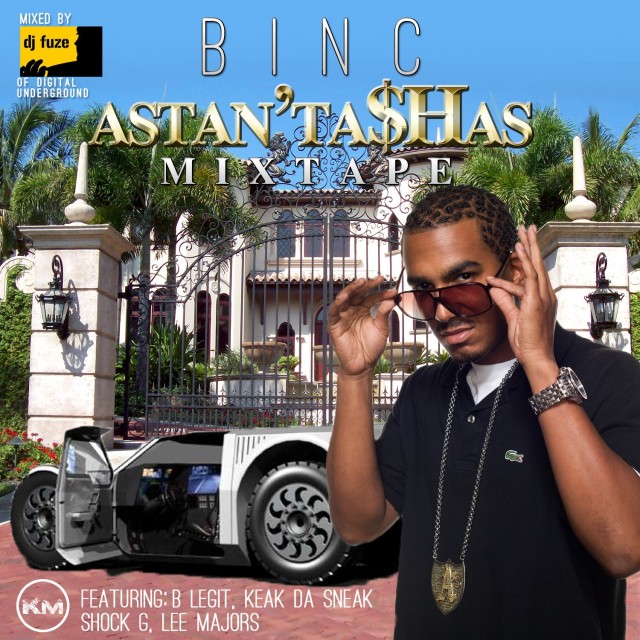 Exactly a year ago today – [see; BINC Drops "Dolla Outta 15 Cent" Tape "DUB Version"] – BINC, the d.u. protege from Oakland, released his freeDolla Outta 15 Cent mixtape on Dubcnn. This release was the follow up to his late 2010 sampler, and introductory Dubcnn interview when he released200X on iTunes which was acommpanyied with a follow up Interview in February 2011.
Dolla Outta 15 Cent featured the single BINC Day and was mixed by radio pro DJ Sticky Boots and distributed by Jake Records.
After a year hiatus we are with BINC as he readies his third career mixtape "Astan'Ta$has" – Ostentatious' phonetic spelling. BINC recently told Dubcnn.com; "I wasn't in position to get projects out to the people in the way I wanted. I feel like over a period of time I have improved and plan to make up for lost time with this [new project]."
Now under his own imprint Konnassurr Muzik he will release "Astan'Ta$has" that will feature a huge array of Bay Area talent including B-Legit, Keak Da Sneak, Shock G and Lee Majors with hosting handled by DJ Fuze of Digital Underground.
Today we are dropping off three records from the "Astan'Ta$has" project, including the radio single"My Own Way" that won the 106 KMEL Hometurf competition and has been featured on their weekly show, a track featuring Keak Da Sneak entitled "GAS" and the B-Legit supported "Cona Of Ya Eye"– check them out below!
BINC – My Own way (Audio)
BINC – Gas (Feat. Keak Da Sneak) (Audio)
BINC – Cona Of Ya Eye (Feat. B-Legit) (Audio)
Dubcnn will have the "Astan'Ta$has" project this summer and BINC is set to sign a new distribution deal with PLANET OF THE GRAPES and hopes to release his full length album featuring Too $hortand E-40 in the fall. Stay tuned to Dubcnn and ensure you follow BINC on Twitter.