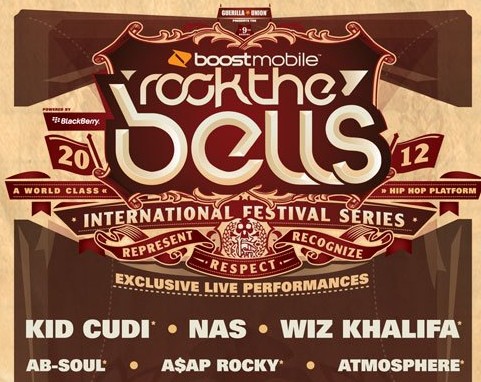 It's that time of year so you should've been excpecting it! Guerilla Union, the live events company behind world-class platforms such as Cypress Hill SmokeOut Festival and Paid Dues Independent Hip Hop Festival, has announced the return of the 9th annual Rock The Bells 2012 Festival Series.

This year's Rock The Bells will feature performances from DMX, Eve, Jadakiss, Wu-Block, Mix Master Mike, Pusha T & Future all of whom are joining the already released list of confirmed attendees including Atmosphere, Big Daddy Kane, Bone Thugs-N-Harmony, Common, Deltron 3030, DJ Quik, Dom Kennedy, E-40, Too Short, Eligh, Grouch, Zion I, Fashawn, Ice Cube, Immortal Technique, J Cole, Kendrick Lamar, Kid Cudi, Mac Miller, Murs, Nas, Naughty By Nature, Prodigy, Method Man and Redman, Salt-N-Pepa, Schoolboy Q, Slick Rick, Tyga and many more
Guerilla Union founder Chang Weisberg shares his excitement; "I am thrilled to announce all the great artist additions to ROCK THE BELLS. The variety of talent makes this lineup the most dynamic yet. There's a nice combination of legendary and up-and-comings acts, and a majority of them are releasing new material as well. Plus, believe it or not, there is still more to be announced."
To read the rest of the official press release, see the full list of performers and to watch the video of freestyle champion MC Supernatural freestyle the lineup to a room full of eager press – check out the offical Dubcnn Rock The Bells Event Page below.
Rock The Bells 2012 Event Page
Dubcnn are once again proud to be involved in this most prestigious festival series as a media sponsor and will be giving fans and readers the chance to win tickets and giving you updates before and of course features right after the shows!
For more information visit Guerilla Union or Rock the Bells.