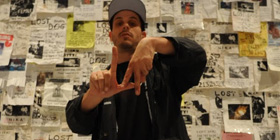 Evidence dropped his highly anticipated and long awaited album "Cats & Dogs"– the follow up to his critically acclaimed "Weatherman LP" – back in September and we kept you up to date every step of the way.
The album – available on iTunes or on CD here – features Aloe Blacc, Raekwon, Ras Kass, Prodigy, Slug, Aesop Rock, Alchemist, Krondon, Lil Fame, Termanology and fellow Dilated MC Rakaa Iriscience. In past updates we dropped videos for To Be Continued…, It Wasn't Me and then the video for the DJ Premier single You, which can be bought on iTunes.
In November we also caught up with the man himself for this exclusive interview where we discussed the album, his new label home Rhymesayers and how the emcee/producer approaches the recording process. Earlier this year we dropped the Falling Down (Teaser) before the full video for Falling Down.
Today we are back as Ev has just dropped the Dave Wilson directed video for another standout track from "Cats & Dogs" – "The Liner Notes" featuring Aloe Blacc. The video was shot at the Greek Theatre in LA last August when Evidence was on tour with Atmosphere and is being released in support of Evidence's European Tour, dates for the tour and video link below!
Evidence – The Liner Notes (Feat. Aloe Blacc) (Video)
19.06 – Thessalonki, Greece @ Eightball Club
20.06 – Athens, Greece @ Gagarin
21.06 – Catanzaro, Italy @ L'Orso Cattivo
22.06 – Naples, Italy @ Bosco Di Galu
23.06 – Wohlen, Switzerland @ Touch The Air Fest
25.06 – Amsterdam, Netherlands @ Bitterzoet
26.06 – Paris, France @ La Maroquinerie
27.06 – Brussels, Belgium @ Bazaar
29.06 – Duisburg, Germany @ High5 Club
30.06 – Borlange, Sweden @ Peace & Love Festival
02.07 – London, England @ Jazz Cafe
06.07 – Roskilde, Denmark @ Roskilde Festival
Enjoy the video and if you haven't then slap yourself then go buy "Cats & Dogs" from iTunes or on CD here and support real Hip-Hop! Take a moment to drop your thoughts direct to Ev on Twitter