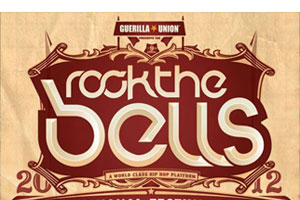 It's that time of year so you should've been excpecting it! Guerilla Union, the live events company behind world-class platforms such as Cypress Hill SmokeOut Festival and Paid Dues Independent Hip Hop Festival, has announced the return of the 9th annual Rock The Bells 2012 Festival Series. As ever we've compiled the official press release,  the full list of performers and the video of freestyle champion MC Supernatural freestyle the lineup to a room full of eager press on this years Dubcnn Rock The Bells Event Page!
Guerilla Union: Rock The Bells 2012
Dubcnn Is Once Again A Proud Media Sponsor Of This Festival Series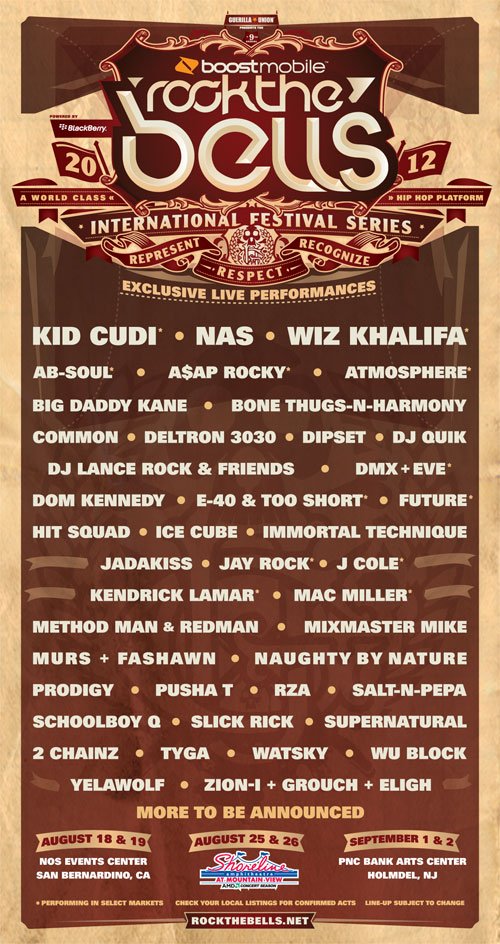 Supernatural Lineup Freestyle


Rock The Bells 2012 Press Conference

2012 Rock The Bells International Festival Series Press Release
Boost Mobile and Guerilla Union have recently unveiled the latest artist additions to the previously announced lineup of ROCK THE BELLS 2012 FESTIVAL SERIES powered by BlackBerry. Joining the all-star roster are DMX, Eve, Jadakiss, Wu-Block, Mix Master Mike, Pusha T & Future. For the complete lineup per market, visit www.rockthebells.net.
Four-time Platinum selling artist DMX will play a headlining role at ROCK THE BELLS this summer, performing songs from his six Billboard chart-topping albums. Joining him will be label-mates Eve and Jadakiss, slated to perform their own sets. Wu-Block, the joint album featuring Ghostface Killah, Raekwon, Jadakiss, Sheek Louch and Styles P, has been highly anticipated since the project's reveal in 2011. Wu-Block is scheduled to release later this year and ROCK THE BELLS will be the first major platform for fans to see the album performed live by the Wu-Tang Clan and D-Block members. Mix Master Mike has a very rare performance lined up for Rock the Bells. The Beastie Boys' DJ and contributor will also release the official ROCK THE BELLS mixtape this summer; more details coming soon. Pusha T and Future will make their first appearance at the festival this summer. Previously announced artists J Cole and 2 Chainz will join the lineup for the New Jersey stop, and Common for the San Bernardino stop. Guerilla Union founder Chang Weisberg shares his excitement: "I am thrilled to announce all the great artist additions to ROCK THE BELLS. The variety of talent makes this lineup the most dynamic yet. There's a nice combination of legendary and up-and-comings acts, and a majority of them are releasing new material as well. Plus, believe it or not, there is still more to be announced."
Tickets for ROCK THE BELLS 2012 FESTIVAL SERIES are now available. Fans are advised to visit www.rockthebells.net for the exact lineup per market and are encouraged to sign up for the Guerilla Union newsletter for important announcements and up-to-date information regarding the festival.
ROCK THE BELLS 2012 FESTIVAL SERIES ARTISTS
2 Chainz*
ASAP Rocky*
Atmosphere*
Big Daddy Kane
Bone Thugs-N-Harmony+
Common
Deltron 3030
Dipset
DJ Lance Rock and Friends
DJ Quik
DMX*
Dom Kennedy
E-40 and Too Short*
Eligh, Grouch and Zion I
Eve*
Fashawn
Future*
Hit Squad Reunion
Ice Cube
Immortal Technique
J Cole*
Jadakiss
Kendrick Lamar*
Kid Cudi*
Mac Miller*
Mix Master Mike
Murs
Nas
Naughty By Nature
Prodigy
Pusha T
Method Man and Redman+
Salt-N-Pepa
Schoolboy Q
Slick Rick
Tyga
Watsky
Wiz Khalifa*
Wu-Block featuring Ghostface Killah, Raekwon, Jadakiss, Sheek Louch, and Styles P
Yelawolf
* notes performance on select dates only
+ notes performance of album in its entirety
Hosted by:
RZA + Supernatural
ROCK THE BELLS 2012 FESTIVAL SERIES DATES & VENUES:
08/18 – 08/19 San Bernardino, CA – NOS Events Center
08/25 – 08/26 Mountain View, CA – Shoreline Amphitheatre
09/01 – 09/02 Holmdel, NJ – PNC Arts Center
For more information visit Guerilla Union or Rock the Bells.