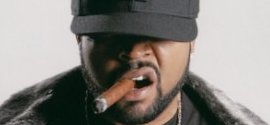 Ice Cube – who released his latest movie "21 Jump Street" with Jonah Hillearlier this year – dropping off this Exclusive Clips + Outtakes Footage –spoke to MTV in May about a new album, N.W.A biopic and fourth 'Friday' film – which we indicated was in the works in March.
In that update [see; Ice Cube Plots New LP] he confirmed the name of the LP"Everything's Corrupt" but little else.
Today XXL Mag released a more detailed interview where Cube gave a few more details including stating the album is "70 percent done."
"The title is kinda self-explanatory in a lot of ways, It's everywhere we look, it's just like corruption has seeped in. It's a shame, but it's true. This whole world is about the almighty dollar. The record is really just really speaking on that. There's a title track that really goes into it. The record is just that West Coast hardcore hip-hop; it's really what fans of mine have kinda been accustomed to, so I ain't about to change."
Cube expects to complete it in the next few weeks and will formalise a release date next week but in the meantime did give some details on tracks that are set to feature.
"I gotta track called, 'Dominate The Weak,' talking about people that fall asleep and become sheep are usually dominated and we can't do tha. I gotta song called, 'One For The Money,' which is really talking about how it used to be 'One for the money, two for the show' Now, it's one for the money, two for the money. The record is talking about where everybody head's at right now."
"I gotta record called 'Take What We Want' and that's about being confident about whatever you want and not waiting for someone to give it to you. Just take it."
The age-old question of features also came up but he was pretty clear about what you could expect;"I ain't really big on features because you buy an Ice Cube record to hear me, I don't think you buy it to hear who I did a song with."
He did confirm that his sons, OMG and Doughboy – as well as WC – would feature!
Stay locked to Dubcnn for more news on the album and his other projects over the coming weeks – until then why not give the I Am The West Album Sampler another spin in anticipation.