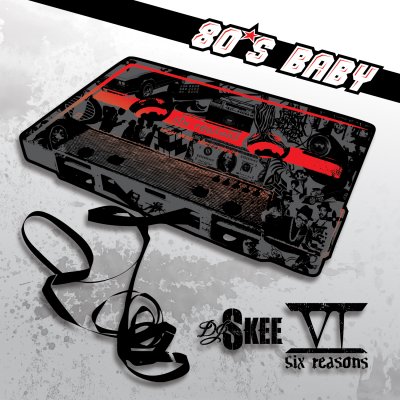 We've been hyping it for months and at long last we are pleased to say that the new mixtape from Watts own Six Reasons is available right here on Dubcnn today!
"80's Baby" – the follow up to the 2008 Pipe Dreams and last years Do Not Pass Go Do Not Collect $200 is the new mixtape from Six Reasonspresented by DJ Skee and since the turn of the year we've been relentlessly supplying new music and video building up to release!
You've had your appetite whetted consistently with music and video including Raindance featuringToo Short, Shotgun featuring Constantine, I Need A Cape with Prophet, Runnin' For President [music video], Keep It 100, Silly Arguments (Feat. Choir Boi) featuring Choir Boi,Michael Myers, Attitude featuring LeMarvin, Black Rosary and its Music Video and most recently Whip'n It and Pinky Swear.
A little over a week ago we caught up with the man himself for this
Exclusive Dubcnn.com Interview
 and today we are proud to be back with the FULL mixtape release for both download and via our streaming audio players for those at work or on the go and we urge you to download from dubcnn to truly support the westcoast and experience 
Free, no waiting, no passcodes
 download or streams via the HUB of Westcoast Hip-Hop, 
Dubcnn.com
.
The 19 track project features appearances from Nisha J, Mika Left, Choir Boy, Icebeezy Swag, Kenni, LeMarvin, Johnny G and Too Short over production from Deep Watters, Shockmaticand Starr Lab.
Six Reasons & DJ Skee – 80's Baby (Free Download)
Six Reasons & DJ Skee – 80's Baby (Streaming Audio)
The duo have also released a short Behind The Scenes of the making of "80's Baby" video for you – watch that below!
Six Reasons & DJ Skee – 80's Baby The Making Of (Video)
Once again huge S/O to Six Reasons, DJ Skee and Cashmere Agency – as always the HOME of new Westcoast material is right here…daily.