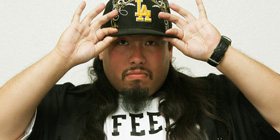 He told you once before he's "The Third Coming Of Funk" and last years acclaimed 26 track release The Hedonistic Mixtape from XL Middletonconfirmed that for all.
The mixtape was jam packed with exactly what you'd expect; funked-out basslines and rich chord arrangements and features including Clinton Wayne, BlackWest, Reality Jonez, Harold Blue, Lady Deuce, Rev, Young Sauand King Tee over production from XL Middleton as well as J Schon, Docc Free, Sic Sense, Doggmaster and xXx Productions.
The Hedonistic Mixtape was always planned to be a teaser of XL's "The Hedonistic Album" which was released in March via iTunes and from which we dropped the video for Low Key High Note in our last update.
We return today with his latest video from The Hedonistic Album featuring Crown City signee Moniquea on an 80's inspired "battle of the sexes" funk track entitled "You Can't Train Me" – you know XL always cooks up some of the best visuals and Brandon Mahlberg directs an 80's movies and sitcom inspired clip!
XL Middleton – You Can't Train Me (Feat. Moniquea) (Video)
Enjoy and ensure you cope The Hedonistic Album today before dropping your feedback on theDubcnn Forums and directly via Twitter to XL Middleton.