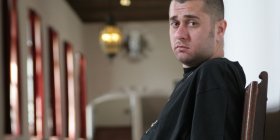 Last month Damizza was back on Dubcnn introducing his second new artist in less than a few weeks. First up in May he introduced the young MC Fresh with the single At the Studio (We Just Havin' a Ball) featuring Butch Cassidybefore releasing his Man Of May mixtape.
He followed that up with the Damizza Introduces Lil' Bams & Readies "The Mizztape" update where he showcased another new talent he was working with by the name of Lil' Bams on the record God Give Me Wisdom.
That song was the lead single from Baby Ree: Project X – The Mizztape which we dropped forFree Download and via our Streaming Audio Players.
Today we are back as Damizza has just announced that he is uniting with promising young producer/artist Chepo for a duet mixtape/album hybrid titled "Chronic 2012" – cover shown.
"We taking it back to 2001 to pay homage to a great era of music, with the 2012 upgrade. It's what you want, West Coast BANGIN' Beats [combined with] Chepo's lyrics and beats really bring some heat to the West Coast table," explained Damizza.
New Baby Ree Affiliate Chepo hails from Lompoc, CA and has been generating noise over recent months with his recent mix tape, "What's Left of Me" that dropped earlier this year, featuring aDamizza intro.
"I had to work with Chepo. It's great to leave the producing and writing to someone else for a change," says Damizza. "We have a ton of new talent on this project and I'm always stoked to see new artists shine."
We have been sent the first single from "Damizza Presents: Chepo – Chronic 2012" entitled "Hate You" that sees Damizza and Chepo alongside Lil Bams over a Jeremy Valdez instrumental; listen below!
Damizza & Chepo – Hate You (Feat. Lil Bams) (Audio)
"Damizza Presents: Chepo – Chronic 2012" drops Friday August 3rd via a new venture with 101 Distribution; "It was a gift to work with the late Steve Prichert & the team at Fontana/Universal. We will always appreciate Ron, Jon & the team there, now on to the next chapter with 101. After talking with Justin at 101 it reminded me of my first talks with Brian Shafton at RBC about Fontana. The excitement for new music and their direct relationships with the music industry & fans make this union quite enticing for all indie artists," explained Damizza