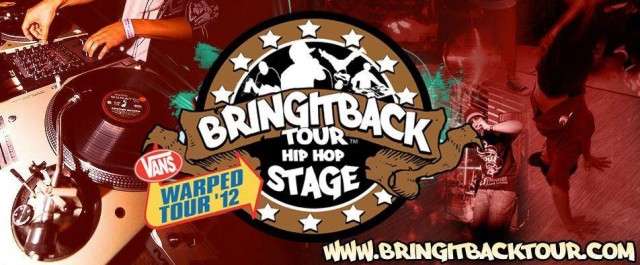 Last month we announced that The BringItBackTour Stage – powered by GoalZeroon at the 2012 Vans Warped Tour – would return after a successful run on 8 dates of last year's Vans Warped Tour!
The BringItBackTour Stage returns this summer for all 41 cities, showcasing national and local Hip-Hop artists, live painters, B-Boy crews, DJ exhibitions, and more. Bring It Back has also once again partnered with ReverbNation to offer local artists the opportunity to perform.
This year's headliners include The Chicarones and Ceschi Ramos, with select appearances from legends such as Kanetic Source (of Ozomatli), Aceyalone, Opio (of Hieroglyphics), and OneBeLo (of Binary Star) as well as highly respected artists such as Rah Digga, Double-0 (of Kidz In The Hall) with Yonas (of UNI), LuckyIam, Bleubird, Verble, Dox Black, Dante LaSalle, Parable, Prime Element, and more.
Dubcnn are proud to be Proud Media Sponsors of the BringItBackTour Stage Vans Warped Tour 2012 and having already provided you with the BringItBackTour Stage Vans Warped Tour 2012 Promo Video we are back today with a video from headliners The Chicharones. Comprised of songwriters Sleep and Josh Martinez,
The Chicharones ransack Portland for their brand new video, "Burn It Down" which is the first single off their new record "Swine Flew" which is out now on iTunes.
The Chicharones – Burn It Down (Video)
Check the full Schedule of BringItBackTour Stage Vans Warped Tour 2012 and Purchase Ticketshere. Check them out on Facebook and Twitter.