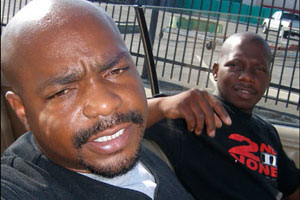 Compton, California's own 2nd II None will be releasing "Infinite", a greatest hits compilation, on July 31 through Coastal Contra Music Group. "Infinite" features DJ Quik, Hi-C, and AMG, as well as the late DJ Quik protege Mausberg.
KK and Gangsta D's catalog consists of a self-titled 1991 album through Profile Records and 1999's "Classic 220". 2nd II None also recorded, but never released an album called "The Shit", which was originally planned for a Death Row Records release.
The tracklist for "Infinite" is below:
1. Intro 0:14
2. If You Want It 3:45
3. Up 'n Da Club 4:46-ft. AMG
4. More Than A Player 3:15
5. Niggaz Trippin' 6:34-ft. DJ Quik, AMG & Hi C
6. Got A Nu Woman 8:45-ft. AMG, Hi C, Player Hamm & DJ Quik
7. Didn't Mean To Turn U On 4:38
8. Let The Rhythm Take You 4:40-ft. AMG
9. Princess 4:15-ft. James DeBarge
10. Sweet Chocolate Mama 1:29-ft. The Chocolate LoveLites
11. Make 'Em Understand 4:29-ft.Mausberg
12. Back Up Off The Wall 5:59
13. Whateva U Want 3:58- ft. James DeBarge & AMG
14. Ain't Nothin' Wrong 3:10- ft. DJ Quik
15. Chocolate Love Outro 1:22- ft. The Chocolate LoveLites
Stay tuned to Dubcnn for more info on 2nd II None!