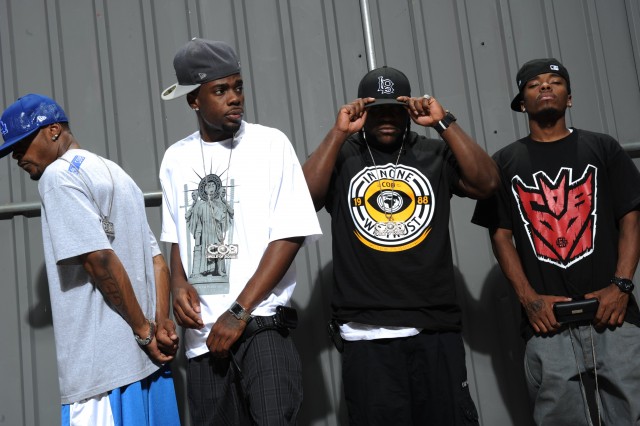 A little over a year ago one of hiphops most talented groups released their sophomore album "Firing Squad". The HorseShoe G.A.N.G, who on their debut offering provided a perfect blend of out of this world lyrical ability without compromising their natural song making talents, were back in 2011 with that album and its buzz single 6′ 7′ Remix.
Since that release the group have featured on Crooked I "In None We Trust – The Prelude" EP that dropped via iTunes late last year. We dropped the video to Drum Murder that featured the G.A.N.G.
Last month we announced that the group was planning to drop their latest project entitled "#TrueStory" this summer and we dropped the buzz record Go Hard featuring K-Young over a production from Bona Fide. Earlier this month the group then appeared on the Crooked I Presents: C.O.B. Cypher 2012 video but today they return with another record to hype "#TrueStory" over the "Goldie" instrumental – check it below!
Horseshoe G.A.N.G. – We Here (Audio)
Enjoy and stay locked to Dubcnn for more from "#TrueStory" – due 9/11 – over the coming weeks.