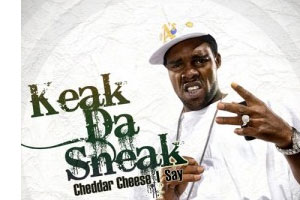 It's been two years now since Dubcnn caught up with West coast legend Keak Da Sneak for this exclusive interview. In that time he's been relentlessly on the grind including dropping "Da Bidness Part II" with PSD Tha Drivah & Messy Marv that featured the single Bruh Bruh.
Today he returns with a brand new solo project entitled "CheddarCheeseISay featuring appearances from Big Hollis, Goldie Gold, Complex , Tieck Tockm D-Buck, Sycosis and more. The album features the single "Show Off" featuring Complex, the video for which has just been released and you can see below.
Keak Da Sneak – Show Off (Feat. Complex) (Video)
Enjoy and go cop CheddarCheeseISay via iTunes today.