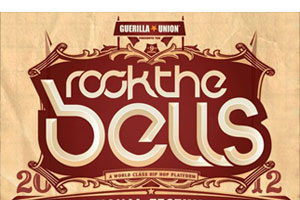 Hot Of The Press! Guerilla Union have just announced that east coast legends Wu-Tang Clan will be special guests at the final stop of the Rock The Bells 2012 Festival Series happening this weekend, September 1 and 2, at the PNC Bank Arts Center in Holmdel, New Jersey!
Chang Weisberg, founder of Guerilla Union, explains the recent addition: "Weve brought in artists exclusively to both the San Bernardino and Mountain View shows, so we wanted to do something exceptional for New Jersey. What better way to end the festival with a bang than having one of musics greatest contributors, Wu-Tang Clan, as special guests?"
Weisberg continues stating that the Hip Hop pioneers have signed on not only to make the final stop a unique one, but to rally in support of Rock the Bells Festival. "While the shows the past two weekends on the west coast were incredible (both sold out), Rock the Bells in New Jersey is really struggling. Last year, we had to cancel our show in Boston; this year, we had to leave our annual home at Governor's Island in NYC; and for whatever reason, this show in New Jersey is not selling. But we are not going to stop fighting to make music history, and Wu-Tang Clan, as well as every other artist on the bill, are working hand-in-hand with us in order to support one of the last true live-music platforms in Hip Hop on the east coast. I know that this Labor Day weekend will go down in the books as one of the best shows we've ever produced, and I know that we are going to make music history yet again. But we hope that enough fans will rally to support the cause as well so we can continue to bring Rock the Bells to the east coast."
Wu-Tang Clan will make an appearance during Wu-Blocks set on the 36 Chambers Stage (Wu-Block is the collaboration of Raekwon, Ghostface, Jadakiss, Styles P, and Sheek Louch). Other artists exclusively performing in New Jersey are super-group Slaughterhouse, Rock the Bells alumni Big Sean, and new-comers French Montana + Red Cafe, Action Bronson, and Tinie Tempah.
The Rock The Bells 2012 Festival Series in New Jersey will feature more than forty acts over two days for one ticket starting at $99. Visit Rock The Bells for the exact lineup and for ticket details!
Find out more on the official Dubcnn Rock The Bells 2012 Event Page.