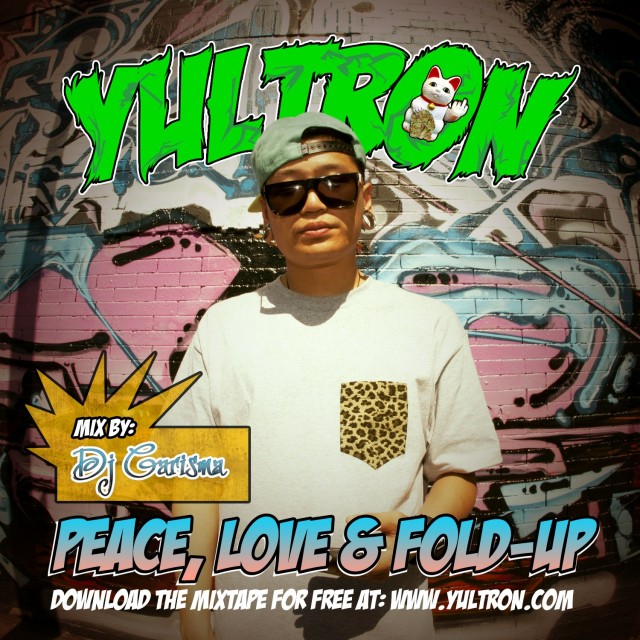 Back in June we introduced you to Yultron, a refreshingly diverse artist residing in the notorious "Sin City" that is Las Vegas. His music blends Hip-Hop with alternative rock melodies resulting in some unique records. "Summer Life" – which you can watch again below – is directed by Daniel Park (Far East Movement, Snoop Dogg) and features Compton's own YG – who is currently riding the wave of success from his own 4HunnidDegreez project.
Since our last update Yultron has teamed up with Transparent Music and Stampede Management to release his "Peace, Love & Fold-up" mixtape that features original music both produced and recorded by 'Tron, and boasting notable collaborations with R&B talent Kendre (Quincy's "Stay Awhile") and West Coast sensation, YG.
On  "Peace, Love & Fold-up" , Yultron draws from his wealth of artistic inspirations. "Starry Eyed" is a dubstep-driven anthem, while the afore-mentioned "Summer Life" is a playful, midtempo ode to California's permanent sunshine. Mixtape host DJ Carisma of Power 106, meanwhile, expertly blends some definitive tracks by Mac Miller and Kid Ink into the tracklist. The result is a superior playlist that proves a fine example of Yultron's personality and talent. Download or Stream the mixtape below.
Yultron – Peace Love & Fold Up



[raw]
[/raw]
Tracklist
01) Summer Life (Feat. YG)
02) Amber (by 311)
03) Why We Get High
04) Kool Aid & Frozen Pizza (by Mac Miller)
05) Love You Down
06) Drippin' (by Kid Ink)
07) Starry Eyed
08) Dear Smoke Alarm (by Jae Millz)
09) No What
10. Who Booty (by Jonn Hart)
11. Satelites
12. Blood (Bonus Track)
Yultron – "Summer Life" (Feat. YG) (Video)
Enjoy the mixtape and ensure you follow @Yultron on Twitter.