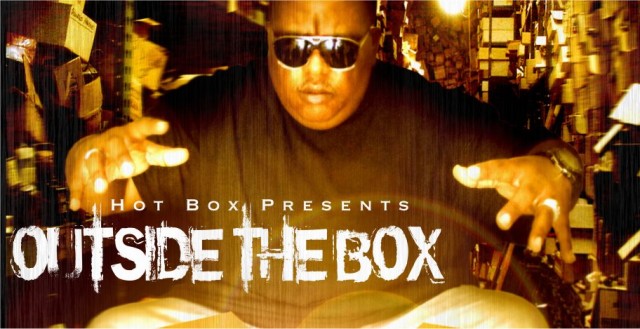 From the shadows of ghost -writing, hook making, & background vocals emerges West Coast phenomenon Hot Box. The talented emcee may be a new name to you but his rap sheet started in his elementary school years, days which saw him charged with offenses of inciting rap battles within the gang infested streets of the Los Angeles County community.
His teenage years were spent writing and by the e age of 15, Hot Box formed his own publishing company and single handedly negotiated a publishing deal.
This drive saw him enlist A -list production from the likes of Battlecat, D.J. Quik, Snake Puppy of the L.A. Dream Team, and the late Johnny J. With a combined creative effort, winning talent shows, killing promotional spot dates, appearing on the motion picture soundtrack of Hangin' with the Homeboys starring John Leguizamo, and making a television appearance on Gabriel's Fire starring James Earl Jones; Box was propelled into a recording agreement with PWL America / Mercury / Polygram by the time he reached 17 years of age.
Hot Box's graduation from high school wasn't the only reason to celebrate his coming into adulthood because he had already achieved securing a promising record deal with a debut album release date and was leaving directly from his graduation to traffic highly addictive dope music on a nationwide promo tour. Box also signed a lucrative songwriting deal with Jerry Heller and the late Eazy-E to co -write on a few Ruthless Records' album releases.
After building a massive rapport with most of the west coast legends in the rap game, Box moved to Miami, Florida where he became partner of an independent label and utilized his knowledge of the business to gain a successful distribution deal. In a small matter of time, he had gained as much popularity in Miami as he already had in Los Angeles. UGK, JT -Money, Three-6-Mafia, B.G. of Cash Money Records' Hot Boys group, Trick Daddy, the legendary Ms. Betty Wright, Larry Blackmon of Cameo, Too $hort, and multi-platinum producers Cool & Dre are just a few of the names that partnered with Box during his rampant run in the humid Miami heat.
Now that Hot Box is back in the custody of the Los Angeles Maximum Studio Correctional Facility, he is once again plotting on ways to get "Outside the Box" and has linked up with Sir Jinx to release a new project entitled "Outside the Box" featuring guest appearances by 3re Tha Hardaway, DJ Khaled, Daz Dillinger, BG, Three-6-Mafia, Dre of Cool & Dre, UGK, Jamal of Illegal, E-A-Ski, Snoop Dogg, Eastwood CPT, RBX, Doveshack, Jetta and more.
You can see the Sir Jinx Presents "Out Side The Box" Tracklist below as well as a sample track from the project entitle "Affiliation" featuring Bun B, Jamal & 3re tha Hardaway over production from Pimp C.
[raw]
[/raw]
01) 3re Tro (Feat. Hot Box, DJ Khaled, 3re tha Hardaway) Prod. By Mike Fresh
02)  Boy listen – (Feat. Hot Box, Daz Dillinger of the DPG, 3re tha Hardaway) Prod. By Daz Dillinger
03)

1. Affiliation - (Feat. Hot Box

.
04) I Need Money – (Feat. Hot Box, Doveshack & Jetta) Prod. By Uncle CO
05) Born n The Ghetto – (Feat. Hot Box, Three -6 -Mafia, 3re tha Hardaway) Prod. By Three-6-Mafia for Hypnotized Minds Productions
06) All Night – (Feat. Hot Box, BG of the Hot Boyz, 3re tha Hardaway) Prod. By Drum Majorz
07) Animal – (Feat. Hot Box, Daz Dillinger of the DPG 3re tha Hardaway) Prod. By Daz Dillinger
08) STOMP! – (Feat. Hot Box, RBX, 3re tha Hardaway) Prod. By David "Big Qlu" Lindley
09) Top Notch Hoes – (Feat. Hot Box, Pimp C, 3re tha Hardaway) Prod. By Pimp C.
10) Imma Get You High – (Feat. Hot Box, E-A-Ski, 3re tha Hardaway) Prod. By E-A-Ski
11) Last Days (Feat. Hot Box, Chris Starr, Eastwood CPT & Snoop Dogg 3re tha Hardaway) Prod. By Battlecat for BC Powda Music
Check the project out on Amazon and stay tuned and look out for an exclusive interview with Hot Box right here on Dubcnn!