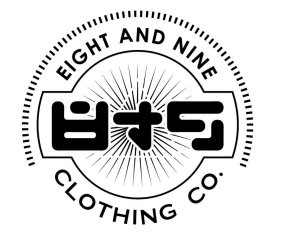 Ray Guilbault is a man with a master plan, taking his personal love of sneakers, hip hop, skateboarding, classic gangster movies and all things fresh and launched 8and9 Clothing Co.
Dubcnn.com linked with the independent fashion mogul in the making to discuss how he turned 8and9 Clothing Co from an idea into one of the leading street wear companies with tastemakers, celebrities and everyday connoisseurs of dope fashion and accessories.
He also added an exclusive 8and9 bonus for DubCNN readers at the end of the interview – check it out!
…………………………………………………………………………………
Interview was done in October 2012.
Questions Asked By: Chad Kiser
…………………………………………………………………………………



…………………………………………………………………………………
Dubcnn: How would you define street wear?
Ray Guilbault: Streetwear is just fashion inspired by street lifestyles and everything that comes from living in an urban environment. Whether it's skating or listening to hip hop the style is a fusion of diverse cultures with common elements.
Dubcnn: What sets 8and9 apart from other street wear brands?
Ray Guilbault: Our approach is different. We design with a range of influences where a lot of companies have a rinse and repeat kind of formula. Our graphics are concept rich and that's something we're known for.
Dubcnn: Do you think 8and9 has changed the way fashion defines crossover brands?
Ray Guilbault: Our philosophy and approach to building the brand were definitely ahead of the times. But, it's hard to say we've had an influence on "fashion" as a whole. Only the Ye's and Pharell's of the world can really claim that.
Dubcnn: Who is the core demographic that wears 8and9?
Ray Guilbault: A lot of our customers are sneaker connoisseurs. Our brand loyalists have common philosophies and lifestyle. They're savvy shoppers who want something with a little more substance than they get elsewhere.
Dubcnn: The official 8and9 showroom is located in Miami, FL does this give the brand an advantage?
Ray Guilbault: Being based in Miami has a lot of advantages over other places in the country. I love what we've built in Miami. The city has been great for us. But you could always argue other points. Example, New York has so many retailers you can almost be self sufficient off the city alone. California is basically streetwear Mecca. Atlanta is infamous for comradely that propels a lot of success. But, 8and9 was born in Miami and we're not moving.
Dubcnn: Why is the showroom only open by appointment? Can anyone make an appointment?
Ray Guilbault: We're a small company and it takes a lot to run our day-to-day business. Adding a full service store right now would be counter-productive. We have great retailers in Miami fulfilling the street demand so our own store isn't really necessary. As of now, you have to be invited to The Showroom and then set an appointment. But, it's not an elitist club. Some of our top local customers have been invited.
Dubcnn: What are the advantages of maintaining this exclusivity?
Ray Guilbault: The Showroom offers an exclusive shopping experience preserving the privacy some appreciate. We chose our location carefully and keep it appointment only for that reason. If you do come through to our openings or by appointment you'll be rewarded with a lot of exclusives not found anywhere else.
Dubcnn: What's all the hype behind sneaker tees and accessories?
Ray Guilbault: Everything about sneakers is hype right now so a lot of brands are trying to capitalize on that market. The game is bigger than ever. Sometimes it seems like sneakers are the new beanie babies but the hype is great because it creates a market that supports entrepreneurs who develop dope products like a Jason Markk sneaker cleaner for example. A sneaker head may never get that to his door if the game wasn't in beast mode.
Dubcnn: Do people still buy fly shoes to ball in or are they just buying "BBall" kicks for daily fashion?
Ray Guilbault: I never played basketball but I see street fashion on the court and basketball fashion in the streets. Cats definitely aren't scared to hit the park in brand new J's but people who never touched a court will also wear them to the club. So I think the less fashionable shoes are usually more "performance" driven and shoes like Kobe's seem to get more love on the court and a lot less play for day-to-day style.
Dubcnn: 8and9 Clothing Co. originally launched around 9/11 2001, did this have an impact on the company? If so how were you able to overcome these obstacles and move forward?
Ray Guilbault: Yea, we launched the summer before and definitely felt the effects. I had just moved from NY to Miami, all our cut and sew production was in Pakistan. We took a hard hit and a lot of losses when Sept 11 happened. But, thankfully all of my family and friends were safe so I grinded through the monetary losses and rebuilt a stronger brand from those learning experiences.
Dubcnn: The 11th anniversary of 9/11 and the launching of 8and9 just passed what are some of the feelings that come to mind when you see how much the brand has grown from its rocky beginnings and the state of the US today?
Ray Guilbault: I'm grateful for making it this far. People always told me if we're thriving in a recession there are even greater things ahead. It may be true. I take it one day at a time putting in as much work as possible, maximizing each day. Our country faces a lot of changes and we never know when the freedom of entrepreneurship could expire so I treat this game like a long distance sprint never taking anything for granted.

Dubcnn: Moving on to a lighter note you recently did a photo shoot w/ the social group "HYPE Girls". Is this a sign that there will be an 8and9 women's line coming soon?
Ray Guilbault: Definitely not, just a collaborative shoot with women wearing our men's clothes. We shot them in everything over sized to make that clear. We're really looking to give our core, male customers more lifestyle pieces like denim, jackets and accessories before even thinking about women's clothes.
Dubcnn: Many street wear companies don't cater to woman consumers, why is that?
Ray Guilbault: Women always ask me that and my answer is theory. The core products for any streetwear company are T-shirts, then hats and denim. Streetwear heads also by a ton of sneakers. But, women have so many fashion choices, how many T-shirts does the average woman buy a year? Hats? When it comes to denim I think most women want premium brands and some only wear sneakers to the gym. On the flip side guys can wear sneakers, T-shirts and hats every day so the math makes a lot more sense in the men's market.
Dubcnn: Urban/street wear has found its place among mainstream consumers with the rapid growth of sports like the X-Games and the consistent global acceptance of hip-hop. Do you think these events solidify longevity for brands like 8and9?
Ray Guilbault: Definitely, our brand was built to unify cultures and lifestyles with common interests like hip-hop and skateboarding. Cities keep getting more diverse and cultures more integrated. All of that is great for us and for the growth of streetwear.
Dubcnn: What are some of the perks of owning one of the leading street wear companies out?
Ray Guilbault: Well, I still don't have enough clout to get myself a pair of Yeezy's for retail price! But I meet a lot of super talented people that inspire what we do and I've been able to collaborate with some of my favorite artists like Cormega which was a dope experience and something I'm proud of.
Dubcnn: What advice would you give to people considering jumping in the fashion rings with the likes of yourself?
Ray Guilbault: There's a lot of room in the game for designers to make their own way through the crowd. Know your goals, prepare to sacrifice for them, train hard and execute when it's fight night!
Dubcnn: Where can DubCNN readers purchase 8and9 exclusives?
Ray Guilbault: Thanks for asking! DubCNN readers can go to 8and9.com to shop. Our Fall '12 line just launched and any one can get 20% off just by typing the code DubCNN at checkout. Also follow us on Twitter and instagram @8and9. Thanks for the great conversation!