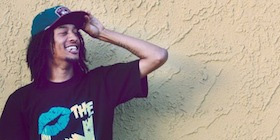 Last year we introduced you to Waxxie, an up and coming hip-hop artist from the West Coast who also happens to be the son of one of hip-hop's most respected and legendary forefathers, N.W.A's MC Ren.
In our first update we brought you a record called My Krew, then in January of this year we dropped this Exclusive Interview with Waxxie where he talks about his budding career, what it was like growing up as the son of a legendary artist, a possible New N.W.A. and much more!
In February he was back on Dubcnn with his debut mixtape entitled
Sky Times
.
Today he returns with a just released new single called "Ratchet Music" that is produced by LunchTime Legends – listen below.
Waxxie – Ratchet Music
No word yet on where "Ratchet Music" will feature but be on the lookout for more info and updates on Waxxie right here on Dubcnn!