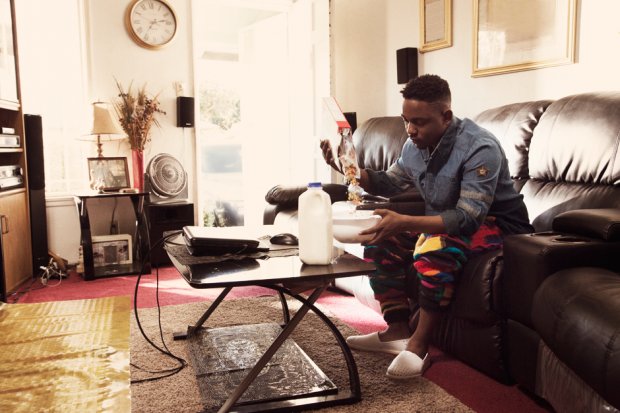 Having been the first media outlet to get behind TDE representer Kendrick Lamar, the palpable sense of pride swells as we near the release of "good kid, m.A.A.d city" for everyone here at dubcnn.com.
From the singles, the videos, to last nights BET Awards where he not only performed but WON his first award for "Lyricist of the Year" – you can feel the Hip-Hop Community moving as a unit to see Kendrick succeed. We all want it, Hip-Hop needs it. Hip-Hop has been waiting for a new voice, a leader from the youth – an example.
That's why the just released article from SPIN entitled "Kendrick Lamar: Not Your Average Everyday Rap Savior" is one of the best pieces of journalism that takes the average fan who knows little about it from day.Dot, to K.Dot, to Kendrick. Read the intro below – then read the rest.
Like his hero Tupac Shakur, Kendrick Lamar grew up heavy in the game. Living in the midst of, but apart from, Compton's roiling gang life, Lamar is now facing down hip-hop's brightest spotlight as the next protégé of Dr. Dre. But unlike most new rap stars, he is humble, composed, mature, and palpably aware of what he's already lost. Which means he might be the most special of them all.

Lamar began writing rhymes at 13, but it wasn't until he saw 50 Cent's early mixtape success that he realized he could be recording and releasing his music on his own. His first tape made its way to local label Top Dawg Entertainment; the story of his audition for founder Anthony "Top" Tiffith has become part of the rapper's creation myth. The 16-year-old MC stepped into the booth and freestyled for two straight hours, while Tiffith pretended to ignore him. The label had already signed Jay Rock two weeks prior and the two MCs immediately began recording at the label's house studio in nearby Carson. In 2009, as the Top Dawg roster expanded to include Ab-Soul and Schoolboy Q, the foursome formalized the crew as Black Hippy, "the conglomeration so cool it could freeze L.A." as Lamar describes it on the group's "Zip That Chop That."

Jay Rock was stunned the first time he went into the studio with Lamar. "I was working on lyrics, writing, writing, writing on paper. And Kendrick goes in the booth with nothing. I asked him where's his paper? He'd written it all — the whole song — in his head in about five minutes. That's when I knew he was crazy. And a genius." Jay Rock cribs the trademark line about Dick Clark to describe Kendrick's maturity level at 17 years old: "He was like the world's oldest teenager."
Huge respect to Jessica Hopper and everyone at SPIN.