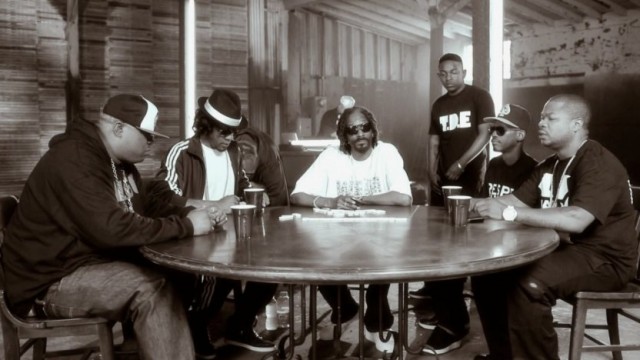 Last night the Annual BET Hip-Hop Awards was aired on TV featuring the toast of the Hip-Hop community.
The show was packed with performances from Wiz Khalifa, Young Jeezy, Juicy J, Meek Mill, Kirko Bangz, 2 Chainz, T.I., Future, Diddy, Machine Gun Kelly, Los, French Montana, Uncle Luke, Rick Ross, Omarion and of course; Kendrick Lamar.
Regular vistitors will already have seen the BET West Coast Cypher Teaser Video but last night the Snoop Dogg aka Snoop Lion, Kendrick Lamar, YG, Kurupt, DJ Quik, Xzibit and E-40 collaboration was aired in full!
Below we have the key video moments from the night, the West Coast Cypher, Behind The Scenes interviews with the featured artists as well as a performance from Kendrick Lamar; who later won the Lyricist of the Year award – huge congratulations to Kendrick!
The West Coast Cypher: West coast legends meet the next generation in this Cali-centric cypher
BET also released Behind The Scenes Videos with each of the artists involved in the West Coast Cypher, watch them here: E-40, DJ Quik, Snoop Dogg, Xzibit, Kendrick Lamar & Kurupt.

Kendrick Lamar Performs "The Recipe" and "Swimming Pools" on stage at the BET Awards 2012
Schoolboy Q & Hopsin Feature in Cypher with Mac Miller, Mystikal and Sprite Hot 16 Winner Jay Bird the Purdi Boi
The 2012 BET Hip-Hop Awards winners
Best Hip Hop Video: "HYFR" – Drake f/ Lil Wayne
Reese's Perfect Combo Award (Best Collabo): "Mercy" – Kanye West f/ Big Sean, Pusha T & 2 Chainz
Best Live Performer: The Throne (Jay-Z & Kanye West)
Lyricist of the Year: Kendrick Lamar
Hip Hop Video Director of the Year: Hype Williams
DJ of the Year: DJ Khaled
Producer of the Year: Kanye West
MVP of the Year: Rick Ross
Track of the Year: "Ni**as In Paris" – Produced by Kanye West, Hit-Boy and Mike Dean (The Throne – Jay-Z & Kanye West)
CD of the Year: Watch The Throne – The Throne (Jay-Z & Kanye West)
Rookie of The Year: 2 Chainz
Hustler of The Year: Jay-Z
Made-You-Look Award (Best Hip Hop Style): Kanye West
Best Club Banger: "Ni**as In Paris" – The Throne (Jay-Z & Kanye West)
Best Mixtape: "Dreamchasers2" – Meek Mill
Sweet 16: Best Featured Verse: 2 Chainz – "Mercy" (Kanye West f/ Big Sean, Pusha T & 2 Chainz)
Impact Track: "Daughters" – Nas
People's Champ Award Powered by Verizon: 2 Chainz f/ Drake – "No Lie"
Best Hip Hop Online Site: World Star Hip Hop